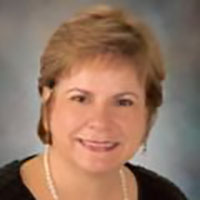 Amelie G. Ramirez, DrPH, is professor of epidemiology and biostatistics at The University of Texas Health Science Center at San Antonio, where she also is founding director of the Institute for Health Promotion Research, which researches health disparities (http://ihpr.uthscsa.edu). Dr. Ramirez has two endowments to support her research and that of the IHPR—the Dielmann Chair in Health Disparities Research and Community Outreach and the Max and Minnie Tomerlin Voelcker Endowed Chair in Cancer Healthcare Disparities and Outreach at the Cancer Therapy & Research Center (CTRC), the Health Science Center's National Cancer Institute-designated Cancer Center. She also co-directs the CTRC's cancer prevention and population science research program.
Over the past 30 years, Dr. Ramirez has directed many research programs focused on human and organizational communication to reduce chronic disease and cancer health disparities affecting Latinos, including cancer risk factors and genetics, clinical trial accrual, tobacco prevention and cessation, obesity prevention, and more. Dr. Ramirez directs two national research networks, one funded by the National Cancer Institute targeting Latino cancer (Redes En Acción, https://redesenaccion.com/) and one targeting Latino child obesity (Salud America!, http://www.salud-america.org). Dr. Ramirez also has mentored for more than 200 Latino undergraduate interns, pre- and post-doctoral students and others.
Dr. Ramirez has authored many peer-reviewed articles, is an editorial board member on several prestigious journals, including Health Education Research, and is frequently invited to speak at scientific meetings. She has been recognized for her work in public health and health disparities research and advancing Latinos in medicine, public health, and behavioral sciences across the U.S., including: 2011 White House "Champion of Change"; 2011 director-at-large of the American Society of Preventive Oncology (ASPO); 2007 election to the Institute of Medicine (IOM) of the National Academies; 2007 Professor of Survivorship from Susan G. Komen For the Cure; 2003 Humanitarian Award from the American Cancer Society; and the 1996 Sarah Mazelis Award for Health Promotion from the American Public Health Association.
Dr. Ramirez received a B.S. from the University of Houston and her M.P.H. and Dr.P.H. degrees from the University of Texas Health Science Center at the Houston School of Public Health.
Updated: 12/09/2019 04:28:14