Program Synopsis
Designed to prevent smoking relapse among self-quitters, this mailing intervention sends former smokers booklets on controlling smoking urges, weight and smoking, smoking relapse, health and smoking, stress management, lifestyle changes, and remaining smoke free. The study showed a lower increase in the percent smoking and a lower increase in the percent relapsing.
Program Highlights
Purpose:
Designed to test relapse-prevention materials with self-quitters as compared to a more formal treatment program. (2004)
Age:
19-39 years (Young Adults), 40-65 years (Adults)
Race/Ethnicity:
American Indian, Asian, Black - not of Hispanic or Latino origin, Hispanic or Latino, White - not of Hispanic or Latino origin
Program Focus:
Smoking Relapse
Population Focus:
Former Smokers
Program Area:
Tobacco Control
Community Type:
This information has not been reported.
Program Materials
Preview and order the materials from the developer
The Need
Progress has been made in developing cessation programs for tobacco smoking, as well as for other forms of substance abuse. Even the best programs, however, continue to have high rates of relapse. The vast majority of smokers either attempt to quit entirely on their own or use self-help manuals, nicotine replacement products such as nicotine gum or nicotine transdermal patches, or other pharmacotherapies. The relapse rate among self-quitters (90%) is even higher on average than it is for smokers who receive formal treatment (75%).
The Program
The Forever Free Program uses serial mailings of eight bulletins written at an eighth grade reading level (which the study tested versus a telephone hotline) to help former smokers stay smoke-free. A review of the relapse-prevention literature suggests that extended contact, coping skills training, and social support are elements of the most successful interventions. These intervention characteristics appear to be especially important for certain groups of smokers, particularly those prone to depression. The program uses the knowledge base of relapse-prevention developed for formal treatment programs to provide a minimal intervention for people who have already quit smoking on their own.
Time Required
Program materials can be mailed to the participant's home in one single mailing or over 12 months.
Intended Audience
Participants in the study were former male and female smokers at least 18 years of age and interested in relapse-prevention information; 92% were White; 3% were Black; 3% were Native-American; 1% were Asian; 76% had some college or higher degree of education.
Suitable Settings
The program is suitable for implementation in the home.
Required Resources
Eight Forever Free booklets are required. The topics covered in the booklets include an introduction and description of nicotine dependence, the stages of quitting, situations that are high-risk for relapse, coping with urges to smoke, making lifestyle changes, and ways to handle relapse incidents. Cost for the eight Forever Free booklets is $11.20; costs decrease as purchase volume increases.
About the Study
The 2000 study explored whether relapse-prevention interventions can be made more accessible and cost-effective than formal treatment programs. The study tested the efficacy of repeated mailings versus a telephone hotline as minimal interventions for preventing relapse among former smokers. The hotline also offered more personal social support.
The study used a 2x2 factorial design: the first factor was whether a telephone hotline was provided for the participants; the second was whether participants were sent repeated relapse prevention mailings. Participants were assigned to one of four groups: (1) minimum-contact control, in which neither intervention was provided, (2) mailings only, (3) hotline only, and (4) combined mailings and hotline.
Follow-up surveys were sent one year after the program treatment ended.
A preliminary evaluation of this program revealed the following:
Repeated mailings of Forever Free booklets reduced relapse for the year during which they were provided: 12% of those who received the mailings relapsed, compared with 35% of those who did not.
Ex-smokers who had fewer than three months of abstinence at the time they entered the program were 66% less likely to be smoking at follow-up if they received the whole series of eight booklets, compared with participants who received only one.
Ex-smokers who received mailings and who had fewer than three months of abstinence were less likely to: currently smoke, have smoked in the past week, have smoked in the past month, and have smoked in the past three months, when compared to ex-smokers with fewer than three months of abstinence who did not receive mailings.
Nearly all participants had six or fewer telephone contacts. Only 20% of participants ever initiated a hot line call. Overall, participants rated the booklets as more helpful than the hotline, which was not found to be effective.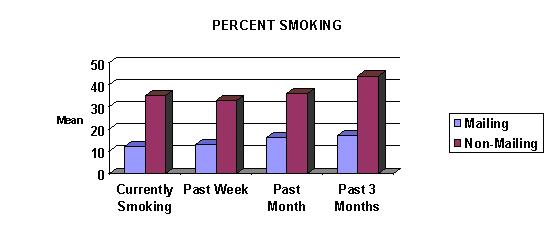 The 2004 study examined the relationship between the amount of content and contact necessary to achieve 24-month abstinence. Using a 2 x 2 factorial design, participants were assigned to one of four groups: (1) minimum contact control, (2) repeated mailings, (3) mass mailing, or (4) repeated letters. Participants in the minimum contact (low content-low contact) control received a single Forever Free booklet upon enrollment. Participants in the repeated mailing group (high content-high contact) received the series of eight Forever Free booklets through the mail. The first booklet was sent upon enrollment and at the following times thereafter: 1, 2, 3, 5, 7, 9, and 12 months. Participants in the massed mailing group (high content-low contact) received all eight booklets upon enrollment. Participants in the repeated letter group received one booklet upon enrollment and seven supportive letters at the same time intervals as participants in the repeated mailing group: 1, 2, 3, 5, 7, 9, and 12 months. Surveys were conducted at 12-, 18- and 24-months after baseline.
Results:
Participants in the repeated mailing and mass mailing group had lower rates of relapse at 12-, 18-, and 24-months follow-up compared to participants in the repeated letter and minimum contact group. Thus, effects were observed for the high content, not high contact.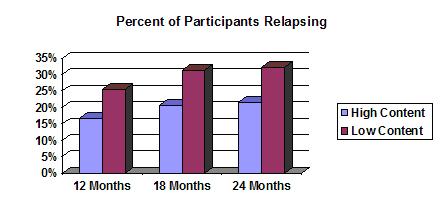 Both high-content interventions were cost-effective. The mean cost of each high-content intervention divided by the difference in their 24-month abstinence rates ranges between $186 and $360- ratios that are lower than comparable ones presented in the literature.
The Quality of Additional Life Years (QALY) ratio ranges between a cost of $83 and $160.