Program Synopsis
Designed to improve dietary habits and increase physical activity to reduce obesity among sedentary women, this community-based intervention consists of classes with physical activity, didactic education about a healthy diet, and skills training to teach behavioral strategies such as self-monitoring and goal setting. The study showed decreases in body weight, body mass index (BMI), and waist circumference; dietary improvements such as decreased intake of cholesterol, carbohydrates, and fats; and an increase in physical activity.
Program Highlights
Purpose:
Designed to promote healthy dietary habits and increase physical activity to reduce obesity. (2009)
Age:
40-65 years (Adults), 65+ years (Older Adults)
Race/Ethnicity:
American Indian, White - not of Hispanic or Latino origin
Program Focus:
Awareness building and Behavior Modification
Population Focus:
Overweight/Obese Individuals
Program Area:
Obesity, Diet/Nutrition, Physical Activity
Delivery Location:
Clinical, Religious establishments
Program Materials
Preview and order the materials from the developer
The Need
The leading cause of death and disability for women in the United States is cardiovascular disease (CVD), which claims approximately 500,000 women's lives each year. In 2007, the costs of CVD (direct and indirect) were estimated at more than $430 billion. As the American population ages, the burden of CVD will continue to increase. It is therefore important to focus efforts on midlife and older women. Lifestyle modifications represent one way to reduce the risk of CVD in older adults, including dietary changes, increased physical activity, and weight control. Yet few women are leading heart-healthy lifestyles. According to data from the 1999-2000 National Health and Nutrition Examination Survey, half of women aged 51 to 70 fail to eat at least five servings of fruits and vegetables per day. Nearly 40% of women aged 45 to 54 do not engage in any leisure-time physical activity, and this rate decreases further with age. Almost 70% of midlife and older women are overweight or obese. Targeted educational and behavioral programs represent one strategic prevention approach that can be implemented widely by community organizations and reach many high-risk women. Only a few such programs exist, showing modest improvements in behavioral and clinical outcome measures, including increased aerobic activity and decreased weight and waist circumference.
The Program
The StrongPeople Living Well program, developed at Tufts University, is a community-based intervention guided by social cognitive theory and designed to reduce cardiovascular disease risk in sedentary midlife and older women who are overweight or obese. The intervention is an hour-long class that takes place 2 days per week for 12 weeks. The class includes a physical activity component and a dietary component. Participants progressively increase to 30 minutes of moderate-to-vigorous aerobic activity, either dancing to a project DVD or walking outside. Lower-intensity physical activity outside of class is promoted. The dietary component is composed of didactic and hands-on training to modify intake patterns and improve weight control. The class emphasizes a diet rich in fruits, vegetables, low- or nonfat dairy products, fish, whole grains, and legumes; consumption of leaner meats and poultry and less saturated and trans fats, sugar, and refined grains; and smaller portion sizes. Behavioral strategies include self-monitoring of food intake and physical activity, goal setting, and skill building for meal preparation, supermarket shopping, and restaurant eating. Hands-on, skill-building activities include preparation of recipes in small groups. StrongPeople Living Well program leaders attend a 1-day training workshop. Program leaders must be an employee or staff member with a nonprofit organization and have a firm commitment to starting a program in their community. It is optimal for program leaders to have experience in providing exercise instruction, have an educational background in exercise or some aspect of public health (e.g., medicine, nursing, nutrition, exercise physiology, occupational/physical therapy, massage therapy, or community/public health), and be certified by a reputable health and fitness organization.
Community Preventive Services Task Force Finding

This program uses an intervention approach
recommended
by the Community Preventive Services Task Force:
individually-adapted health behavior change programs
(Physical Activity).
Time Required
The time required for the intervention is 1 hour 2 days per week over a 12-week period, as well as 8 hours for program leaders to attend the training workshop.
Intended Audience
The intended audience for the intervention is women aged 40 and older who are overweight or obese and currently get little or no exercise.
Suitable Settings
The StrongPeople Living Well program can be implemented in senior centers, hospital outpatient centers, cooperative extension services, offices on aging, assisted living facilities, independent retirement communities, community fitness centers with a large older population, places of worship, and other places where older adults convene.
Required Resources
Required resources to implement the StrongPeople Living Well program include the following:

- StrongPeople Living Well program Web site
- Trained program leader
- Space to conduct the classes (at least 200 square feet)
- Small equipment to complete the cooking exercises
About the Study
To assess the feasibility and effectiveness of the StrongPeople Living Well program, a randomized controlled trial was conducted in eight rural counties in Arkansas and Kansas. The trial was carried out through an existing partnership between the StrongPeople program at Tufts and the National Institute of Food and Agriculture (NIFA) of the U.S. Department of Agriculture. Counties were matched in pairs within each state by population density and socioeconomic status. One county from each pair was then assigned to the intervention group; the other four counties (two in each state) served as controls and received the intervention after study completion. Participants were recruited by NIFA extension educators through articles or advertisements in local newspapers, flyers, and announcements at meetings. Participants were 96 women (61 intervention, 35 control) with an average age of 57. All participants were White except for one. NIFA extension educators were trained by research staff to conduct assessments of screening and outcome measurements and to implement the curriculum. Outcomes were assessed at baseline and again at 12 weeks, at the conclusion of the intervention. Outcomes included body weight, waist circumference, energy intake (measured by consecutive 3-day self-reported food records), and physical activity (measured by steps per day).
Key Findings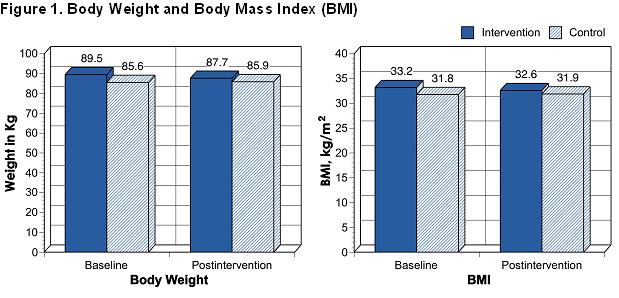 Compared with the control group, participants in the intervention group had a significant decrease in body weight and BMI (p<.01).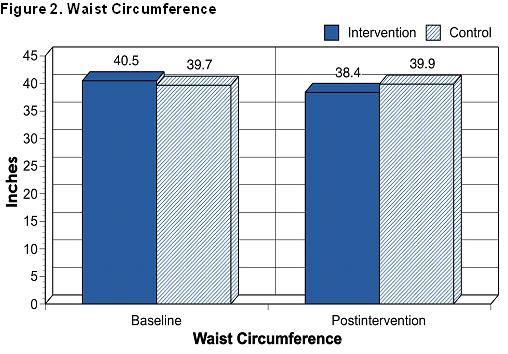 Compared with the control group, participants in the intervention group had a significant decrease in waist circumference (p<.05).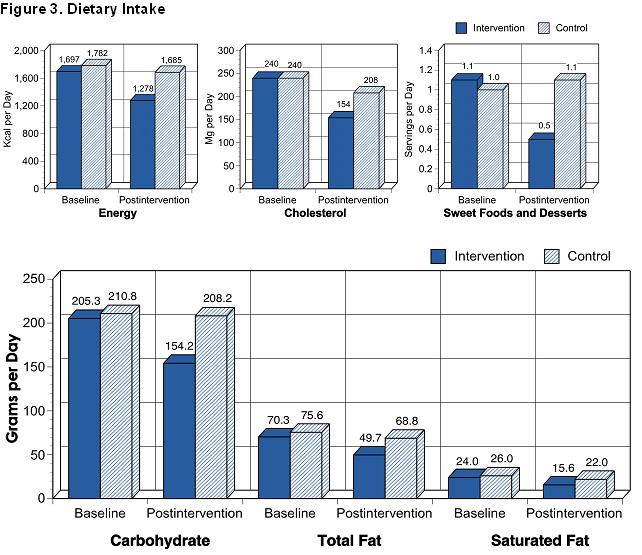 Compared with the control group, participants in the intervention group reported significant decreases in intakes of energy (p<.01), cholesterol (p<.001), sweet food and dessert servings (p<.05) per day, carbohydrates (p<.001), and total and saturated fats (p<.05).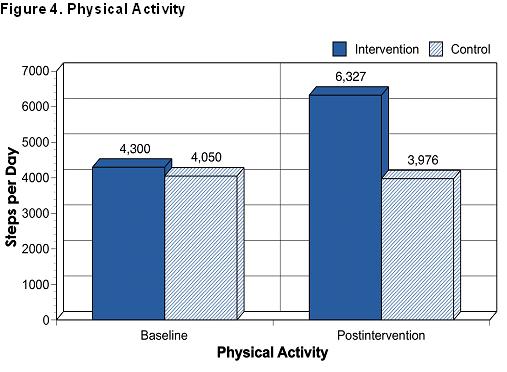 The intervention group participants significantly increased the number of steps taken per day compared with the control group (p<.01).