Program Synopsis
Designed to reduce obesity among children and adolescents, this intervention combines medical supervision, diet and exercise regimens, nutritional and physical education, and behavioral modification through an acute weight loss phase and a phase with a balanced calorie diet to maintain steady weight loss until reaching the goal weight. The study showed decreases in body mass index and weight.
Program Highlights
Purpose:
Designed to reduce obesity among children and adolescents. (2002)
Age:
0-10 years (Children), 11-18 years (Adolescents)
Race/Ethnicity:
Black - not of Hispanic or Latino origin, White - not of Hispanic or Latino origin
Program Focus:
Behavior Modification
Population Focus:
Overweight/Obese Individuals
Delivery Location:
Clinical
Community Type:
This information has not been reported.
Program Materials
Preview and order the materials from the developer
The Need
Childhood obesity is more prevalent in the current generation than it has been in past generations, and treatment programs that produce lasting results are sorely needed. Children who are overweight have a greater risk of future cardiovascular disease, hypertension, diabetes, and musculoskeletal injuries, and they may also experience poor self-image and discrimination. Committed to Kids, now referred to as Trim Kids, is a clinic-based, inter-disciplinary and multilevel weight management program that incorporates short-term goal setting, regular feedback, and motivational techniques to improve health behaviors. Evaluations indicate that Trim Kids is effective in helping children lose weight and maintain weight loss at 1-year follow-up.
The Program
Trim Kids was developed by the Louisiana State University Health Sciences Center, Department of Pediatrics as a multilevel childhood overweight intervention that combines medical supervision and guidance, diet and exercise regimens, nutritional and physical education, and behavioral modification. The medical supervision component of the program involves a baseline medical/family history, a physical exam, body composition and exercise tolerance assessments, and a laboratory evaluation. Weight, blood pressure, resting heart rate, and symptoms and complaints are monitored weekly; physical activity ratings and anthropometric measures (e.g., height, weight, body mass index, percentage of ideal body weight) are monitored on a quarterly basis.
Patients are classified as at-risk for overweight, overweight, or severely overweight and receive Trim Kids books that explain all aspects of the program. The books include color-coded methods to indicate overweight level. As a positive reinforcement mechanism, patients move from one color level into another as they achieve a lower overweight classification.
Following the initial medical assessment, Trim Kids patients take part in an acute weight loss phase for approximately 10-20 weeks that includes nutrition education, behavior modification, a very low calorie or balanced hypocaloric diet and an exercise regimen tailored to the patient's overweight level. When patients have lost approximately 20 percent of baseline body weight, they are placed on an age and gender-appropriate balanced calorie diet to maintain steady weight loss until they reach approximately 120 percent of ideal body weight and complete the one year program.
A Moderate Intensity Progressive Exercise Program component includes a curriculum with guidelines for exercise intensity and frequency tailored to the patient's overweight level. Recommended exercises include moderate-intensity aerobic and strength and flexibility exercises that are described in detail in the Trim Kids book. Exercise videos and DVDs that enable patients to follow guided exercise demonstrations are also available for use at home. Nutrition, exercise and behavior modification lesson plans are available in a handbook for health professionals.
Time Required
Trim Kids involves an initial medical screening, and all patients attend 52 weekly outpatient weight management clinic sessions where anthropometric data are collected, and patients are instructed on diet, nutrition, behavior modification, and report compliance with diet and exercise protocols. Patients and their family members engage in a supervised exercise period of 30-45 minutes.
Intended Audience
The program is tailored to children and adolescents who are overweight and their families. At least one parent or adult guardian is required to participate in the weekly sessions.
Suitable Settings
The intervention is suitable for implementation in clinical settings.
Required Resources
Trim Kids program materials include the book - Trim Kids: The Proven Plan that has Helped Thousands of Children Achieve a Healthier Weight which contains the original educational content, explains all aspects of the program and provides forms to record food intake, exercise duration, frequency, and type.
An exercise DVD is available from the developers to enable patients to follow along with a series of workouts at home. Professionals and parents may purchase the original Trim Kids exercise routines now packaged into one DVD called the Trim Kids Fitness Fun Zone.
Pediatric health care professionals wishing to use our program in clinic based settings or adapt our program for other school, community or health care settings may purchase the original Committed to Kids/Trim Kids educational curriculum content including sample lesson plans, organization charts, monitoring forms, etc., which is contained in the Handbook of Pediatric Obesity: Clinical management.
Participants in Trim Kids studies have typically paid $750 to be involved in the program which also included attending a weekly 2 hour outpatient weight management clinic where they were instructed concerning the very low calorie and balanced hypocaloric diet, Moderate-intensity Progressive Exercise Program, and behavior modification.
About the Study
The Principal Investigators (PIs) have conducted a number of studies assessing the impact of their weight loss program among children aged 7-17 years. Of the participants, 75% were Caucasian and 25% were African American who are at least 130 percent their ideal body weight, based on National Center for Health Statistics (NCHS) percentiles or >85th percentile for body mass index according to the U.S. Centers for Disease Control percentiles. Participants were excluded if they exhibited evidence of cardiovascular disease, diabetes, or other chronic systemic diseases. The main outcome was reduction in percent overweight or body mass index. Measures obtained and assessed included body composition i.e. percent body fat and lean body mass, lipid profiles, maximal oxygen update, growth velocity, anthropometric measures (e.g., body weight, height, body mass index, percent of ideal body weight), and self-report measures of compliance with prescribed diet and exercise regimens.
Key findings Include:
Participants reduced their average body mass index (in kg/m2) from 32.7 (SD = 7.0) at baseline to 28.4 (SD = 6.6) during the post acute weight-loss phase, to 28.8 (SD = 5.7) at 1 year follow up (p < 0.0001).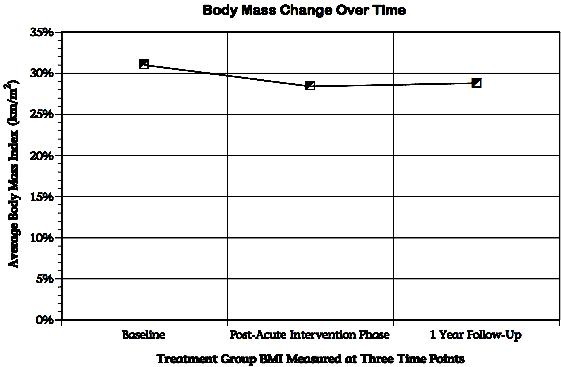 Patients showed reductions in percentage of ideal body weight from 168.7 (SD = 31.2) at baseline to 144.6 (SD = 27.4) post-acute weight loss phase, and to maintain weight loss of 148.5 (SD = 26.9) at 1 year (p< 0.0001).