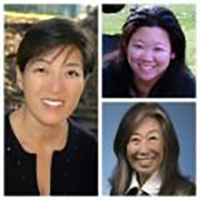 Sora Park Tanjasiri, DrPH, MPH
Dr. Sora Park Tanjasiri is Professor in the Department of Health Science, and Director of the Health Promotion Research Institute at California State University, Fullerton. Her teaching and research focus on community health promotion among diverse populations, particularly Asian Americans and Pacific Islanders. Her scholarship applies community-based participatory research principles to understanding and addressing cancer health disparities, include tobacco prevention, cancer early detection and survivorship. She has served as Principal Investigator (PI) or Co-PI on over two dozen extramurally funded cancer-related studies, including multiple Principal Investigator of the NCI-funded U54 Community Network Program Center WINCART: Weaving an Islander Network for Cancer Awareness, Research and Training, and the R01 Support Our Women study to promote Pap testing among Pacific Islander women. Her research has been published in such peer-reviewed journals as American Journal of Public Health, Journal of the American Medical Association, Health Education & Behavior, and Health Promotion Practice.
In addition, Dr. Tanjasiri serves as an advisor to numerous non-profit organizations and coalitions, including member and chair of the Board of Directors of the Orange County Asian Pacific Islander Community Alliance, board member of the St. Joseph Health System Foundation, board member of the Orange County Affiliate of Susan G. Komen for the Cure, member of the California Breast Cancer Research Program Council, and member of the Asian American and Pacific Islander Team for the American Cancer Society California Division. She has also served as member and chair of the Susan G. Komen for the Cure's Asian American/Pacific Islander National Advisory Committee. Dr. Tanjasiri received her bachelor's degree in Biochemistry from the University of California, Berkeley, and her master's degree in Behavioral Science and doctoral degree in Community Health Sciences from the University of California, Los Angeles School of Public Health.
Mary Anne Foo, MPH
Mary Anne Foo is the executive director and founder of the Orange County Asian and Pacific Islander Community Alliance, a non profit community based organization serving the Asian and Pacific Islander communities in Southern California regarding health, policy, youth, and education needs. OCAPICA annually serves more than 100,000 community members through twenty-four different programs.
Mary Anne Foo has been working for over twenty years on Asian and Pacific Islander community issues on national, state and local levels at several different community and county wide organizations. She is an investigator on several community based participatory research projects including, OCAPICA's National Center of Excellence to Eliminate Disparities in Health focused upon Pacific Islanders and Southeast Asians in the U.S.; a California Breast Cancer Research Project focused upon Patient Navigation for Southeast Asians; and a Community Investigator on a NCI funded Pacific Islander cancer project.
Mary Anne Foo received her Bachelor of Science in Psychology from the University of California, Davis and her Master in Public Health from the University of California, Los Angeles School of Public Health. She is a fourth generation Chinese/Japanese Californian.
Marjorie Kagawa-Singer PhD, MA, MN RN, FAAN
Dr. Marjorie Kagawa-Singer is a professor in UCLA's School of Public Health and Department of Asian American Studies. Her clinical work and research has been in oncology and on the etiology and elimination of disparities in physical and mental health care outcomes for communities of color: primarily with the Asian American and Pacific Islander communities. She serves on multiple local, state, and national committees addressing the impact of culture and ethnicity on health care and health outcomes, and has published and lectured extensively on cross-cultural issues in health, cancer, pain, grief and bereavement, survivorship, end of life decision-making, and quality of life. She also focuses on the impact of culture and cultural competency through her research on health outcomes, and the cross-cultural validity of health behavior theories and measures in communities of color through Community Based Participatory Research strategies.
Dr. Kagawa-Singer is Regional principal investigator in Los Angeles for the NCI funded national Asian American Network on Cancer Awareness, Research and Training (AANCART), and the UCLA NCI funded Minority Training Program for Cancer Control Research. She is also a member of the National American Cancer Society Board, the UCLA School of Public Health Center for Health Policy Research, the Jonsson Comprehensive Cancer Center, and the UC-wide Multi-campus Research Program: AAPI Policy Initiative. In addition, she maintains an active empirical research portfolio with a recently funded R01 study on quality of life and survivorship for Asian American Cancer Survivors, and another grant through the OBSSR on Operationalizing Culture, and is Chief Editor of the journal, AAPI NEXUS: Asian American and Pacific Islanders Policy, Practice and Community.
Questions & Answers
The Life is Precious program was developed for low literacy Hmong women and their husbands however, it can be adapted to several additional populations.  Any population that is low literacy or likes a storytelling approach would be ideal.  We utilized the model and curriculum for other Asian and Pacific Islander populations and it has worked well.  We believe this program could be adapted to use with any immigrant or refugee populations as well as women whose partners have a significant role in their access to health care.  Although the video and materials are in the Hmong language, the pre/post tests, curriculum, presentation, and flip chart are also available in English for adaptation.  The materials utilize many illustrations, pictures, and photos for a more visual audience.  We also made sure that the questions on the pre/post tests translated well for all populations and were tested for understanding and appropriate meaning.  Other programs adapting the materials will most likely want to utilize photos from their target communities in the materials.
There are no specific audiences that the program and materials shouldn't be adapted for.  The health messages and information are valuable for any audience especially family members and friends supporting women's breast health.
Facilitators that would be good to implement the program could be community leaders, lay leaders, promotoras, health educators, or nurse navigators.  The main challenge would be time to conduct the pre/post tests, go through all the materials and video, and follow up with the women on screening.  Our program's health educators would adapt to all different facilities and locations, amount of time provided, and the situation of the women and men (needed child care, had to return to work so had little time, needed more individual support from the health educators, etc.).  So the program is easily adaptable to space, time, and location however, the facilitators may need to be flexible during implementation of the program.
Suggestions and questions to think about for practitioners when they evaluate the adaptation/implementation of our program would include:
Who is a significant supporter to the women in the population you are targeting for breast health?  Is it their partners/spouses?  Children (eldest daughter or son)?  Friends?  How can you get them involved in the educational components and interventions?
How will I incorporate culturally appropriate activities for the populations I serve into the program?
How will I adapt the pre/post tests for the populations I serve?  Do I need to change the questions or illustrations?
Our current research is focused upon culturally appropriate cancer prevention and treatment programs utilizing Community Based Participatory Research practices and methods.
Updated: 05/19/2020 01:26:08