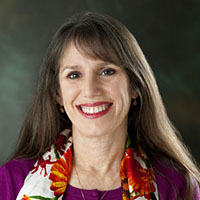 Dr. Deborah Cohen is a Sr. Scientist at the RAND Corporation and the author of the book "A Big Fat Crisis—the Hidden Forces Behind the Obesity Epidemic—and How We Can End It". Her major area of research is on the impact of the built and social environments on health and health behaviors. She is Board Certified in Public Health and Preventive Medicine and currently a Senior Scientist at the RAND Corporation. She is the lead researcher on several studies investigating ways to change the environment to reduce the burden of chronic diseases. She has conducted research in the areas of STDs/HIV, alcohol policy and physical activity and dietary behaviors. Dr. Cohen is also the co-author of the book "Prescription for a Healthy Nation—A New Approach to Improving Our Health by Fixing Our Everyday World".
Questions & Answers
The main lesson from our study is that in order to draw more people to parks so they can be physically active there, the parks should have features and "demand goods" that welcome and engage park users. As a society we have not invested sufficiently in parks and park programming so many people avoid the outdoors and end up spending too much time being sedentary, particularly spending most of their leisure time viewing electronic media. The adaptable components of the study intervention are the choice of programs and events that can be selected and implemented to attract more users. These can be tailored to meet the needs of local residents.
Facilitators to implementation include local stakeholders and groups that could make use of neighborhood parks facilities and develop programs. Partnerships with outside organizations can be fostered to sponsor activities for park users. Challenges include limited budgets and staff time.
Practitioners can survey park users to find out which aspects of the park environment and programming are the most valued by them. In addition, the SOPARC tool (The system for observing play and recreation in communities) is useful for measuring changes in park use over time.
Currently I am working on a national study of neighborhood parks as well as finishing an evaluation of park programs in low-income neighborhoods. I am also studying how beverages are marketed in grocery stores and restaurants, to understand how placements, promotions and serving sizes influence what people drink and whether there are policy approaches that could mitigate the harms associated with the current food environment. In general I am interested in ways to help people engage in a healthier lifestyle, including adopting routine physical activity and a healthier diet.
Updated: 02/07/2020 06:49:56