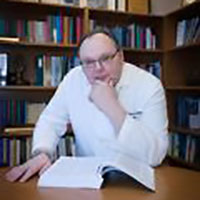 Dr. Alexander V. Prokhorov has spent most of his research career in Texas and is currently a professor in the Department of Behavioral Science, Director of the Tobacco Outreach Education Program (TOEP) and Co-Director of the Duncan Family Institute eHealth Technology Program.
During his tenure at MD Anderson, Dr. Prokhorov has established a strong record of obtaining state and federally funded research grants and has authored numerous peer-reviewed publications and book chapters. His work primarily focuses on creating and testing innovative tobacco prevention and cessation programs for high-risk teens and young adults. His interactive multimedia Web site ASPIRE (A Smoking Prevention Interactive Experience) has reached thousands of young users in Texas, across the nation and the world. He also develops programs aimed at increasing awareness of the tobacco risks among the general public and enhancing smoking cessation counseling skills among health care providers in Texas and beyond. He has projects with low income adults as well. He is a Principal Investigator for "Enhancing Cancer Outreach for Low-Income Adults with Innovative Smoking Cessation." This study uses an existing network of community sites to deliver smoking cessation treatment to a multiethnic population of uninsured and underinsured adults living in the greater Houston, Texas metropolitan area.
Dr. Prokhorov is a much sought after speaker for national and international conferences and seminars aimed at facilitating tobacco control and cancer prevention. He currently serves as a member of the Julius Richmond Center of Excellence with the mission to protect children from exposure to secondhand smoke. His honors include the World Health Organization (WHO) Medal and Certificate (1990), George and Barbara Bush Endowment for Innovative Cancer Research (2003), MD Anderson Educator of the Month (September 2003); an invitation to testify on smoking and adolescents before the President's Cancer Panel (2007); and the Robert M. Chamberlain Distinguished Mentor Award Nominee (2009). Most recently, Dr. Prokhorov was awarded the 2011 Joseph Cullen Award for Excellence in Tobacco Research from the American Society of Preventive Oncology. His most recent was the 2012 The Margaret and James A. Elkins, Jr. Faculty Achievement Award.
Dr. Prokhorov received his MD from the 1st Moscow Sechenov School and his PhD from The USSR Cardiology Research Center.
Questions & Answers
As new tobacco products emerge, program content can be changed/updated.  It is also necessary to update videos and activities (e.g., cost per pack of cigarettes) to keep up with the present-day culture and realities.  Any of these content changes would only enhance the effectiveness of the ASPIRE program.  Additionally, the program could also be adapted for different cultures or languages, making it more culturally sensitive and  relevant to the chosen audience.
In order to facilitate implementation of ASPIRE one would need to identify a "Community Champion" to serve as a liaison between our staff and this new program site(s).  This person will oversee getting their respective location(s) enrolled and started in the program.  Additionally, it is also necessary to have broadband Internet access and the required software (listed on the main ASPIRE page) in order to use the program.  The main challenge that presents itself is the program's nature being heavily technology-oriented, but we have tangible mechanisms in place to circumvent potential technology problems as much as possible.
We have evaluation tools for researchers who would like to test various aspects of the program further, and for practitioners who are interested in measuring the impact of the existing version of ASPIRE on their target audiences.
Current research focuses on tobacco control for adolescents, young adults (college students), and families.  We also developed and tested an evidence-based training program for health care providers that helps them incorporate effective smoking cessation counseling in their daily practice.  We have a free iPhone app for health care providers (QuitMedKit) that can be easily downloaded from the AppStore as a handy resource in smoking cessation counseling.  It is based on the 2008 Clinical Practice Guideline.  CURRENT RESEARCH: We are conducting a community-based trial of text-message based smoking cessation intervention via cell phones among low-SES Houston residents (Project ACTION; NCI grant).  Finally, we are testing a video game-based intervention program aimed at tobacco use prevention and cessation among the U.S. military personal (Project COMBAT; DoD grant).  It is delivered on tablet computers.
Updated: 09/25/2019 05:23:28