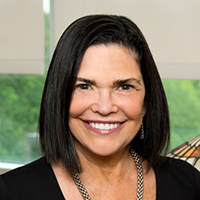 Dr. Suzanne M. Miller is a Professor of Cancer Prevention and Control and Director of Patient Empowerment and Decision-Making at Fox Chase Cancer Center/Temple University Health. Her abiding research goal is to make cancer prevention-control programs more effective by assessing and addressing the distinctive ways in which individuals make decisions, adjust to risk information, and manage recommended medical regimens. Dr. Miller's work also focuses on scientific implementation and dissemination of interventions into clinical, community, and other service and health care policy settings and systems. She serves as Editor-in-Chief of Translational Behavioral Medicine: Practice, Policy, Research, as Chair of the Board of the New Jersey Health Care Quality Institute, and serves on the boards of the Society of Behavioral Medicine and the HealthWell Foundation. She is an author or co-author on more than 140 peer-reviewed journal articles and several book chapters and books. Her most recent book is the Handbook of Health Decision Science (Springer, 2016). Dr. Miller also developed the Cognitive-Social Health Information-Processing (C-SHIP) model, an overarching theoretical framework that systematically analyzes how individuals cognitively and affectively process information about their health, medical risks, and treatment options and how this information translates into health-enhancing or health-defeating behaviors.
Questions & Answers
The barriers assessment and message library can be adapted within the framework of the Cognitive-Social Health Information Processing (C-SHIP) model—which assesses and addresses the barriers in a theoretically-guided way—to specific populations without losing its effectiveness. Specific audiences for adaptation include HIV+ women, non-English speaking populations, and adolescent populations. It can also be adapted for the provider and referring providers. The program cannot be easily adapted to populations that do not have ready access to mobile telephones, although the program can be adapted to text messaging.
Facilitators to implementation include staff with high readiness to implement, previous experience with counseling interventions and assessing barriers to medical treatment adherence, and strong institutional support. Challenges to implementation include systems within a clinic that cannot support adding additional phone calls to patients prior to initial and follow-up appointments. Additional challenges include lack of physician staff resource and lack of well-developed electronic health records.
Practitioners should consider evaluating: (a) reach: number of assessments and counseling sessions completed among eligible patients, (b) adoption: ease of adoption among staff and within clinic, (c) adoption: number of eligible settings adopting program, (d) effectiveness: adherence rates to follow-up appointments, (e) implementation: fidelity of message delivery among staff, (f) implementation: patient satisfaction with the program, (g) implementation: identify patient characteristics that have higher or lower program participation, (h) maintenance: continued barriers assessment and counseling through follow-up appointments, (i) maintenance: continued implementation to new patients, and (j) maintenance: continued staff training and program implementation throughout staff turnover. However, evaluation should not be limited to the provided examples and should be adapted to the setting/organization. Evaluation tools appropriate for the program include the RE-AIM Framework (http://www.re-aim.org/), PRISM Model (Feldstein et al., 2008), and Consolidated Framework for Implementation Research (CFIR; http://www.cfirguide.org/).
My current research focuses on cancer prevention and control, in particular adapting telephone-based counseling to text-based messaging for greater reach and reduced resource demand. Our current research also focuses on mHealth interventions for treatment decision making, adherence to management regimens following treatment, and survivorship issues.
Updated: 05/05/2020 02:21:10