Program Synopsis
Designed to increase adherence to recommended follow-up for low-income minority women after they have received an abnormal Pap test result, this intervention addresses cognitive, affective, and self-regulatory barriers to attending an initial colposcopy appointment by providing an initial letter with the date and time of the appointment, initial scripted telephone contact delivered using a computer-assisted telephone interview system, and follow-up appointment reminder calls. The study showed increased adherence to follow-up after an abnormal Pap test result.
Program Highlights
Purpose:
Designed to increase adherence to recommended follow-up after receiving an abnormal Pap test result. (2013)
Age:
11-18 years (Adolescents), 19-39 years (Young Adults), 40-65 years (Adults), 65+ years (Older Adults)
Race/Ethnicity:
Alaska Native, American Indian, Asian, Black - not of Hispanic or Latino origin, Hispanic or Latino, Pacific Islander, White - not of Hispanic or Latino origin
Program Focus:
Adherence (medication, follow-up recommendations)
Population Focus:
Medically Underserved
Program Area:
Cervical Cancer Screening, Follow-up to Screening
Delivery Location:
Clinical
Community Type:
This information has not been reported.
Program Materials
Preview and order the materials from the developer
Featured Profile
Learn more about this program and the developer who created it
The Need
Each year in the United States, cervical cancer affects about 12,000 women and takes the lives of about 4,000 of them. Some of the many factors that increase the risk of developing cervical cancer include limited health literacy, low self-efficacy, and lack of knowledge about the Papanicolaou (Pap) test. In addition, racial disparities exist in cervical cancer incidence and mortality. Among all racial/ethnic groups, Hispanic women have the highest rate of cervical cancer incidence and African American women have the highest cervical cancer mortality rates. Interventions are needed that address barriers faced by low-income minority women to improve health disparities related to cervical cancer.
The Program
Tailored Communication for Cervical Cancer Risk is a telephone counseling intervention for low-income, minority women that aims to increase their adherence to recommended follow-up after receiving an abnormal Pap test result. The intervention is based on the Cognitive-Social Health Information Processing (C-SHIP) model-- which addresses cognitive, affective, and self-regulatory barriers to adherence-- and research attributing poor adherence to a lack of understanding of Pap test results, inaccurate risk perceptions and expectations, and lack of coping competencies for managing anxiety and enacting planning strategies. Administered through a computer-assisted telephone interview (CATI) system, the intervention addresses these barriers to encourage women to attend an initial colposcopy appointment and, 6 and 12 months later, repeat Pap test and colposcopy appointments. The intervention consists of a letter and telephone contacts, as follows:

-- Initial letter: Women with an abnormal Pap test result are recruited to participate by their health care clinic. Patients receive a letter from the colposcopy clinic informing them of their abnormal Pap test result and providing them with the date and time of their scheduled appointment to receive a diagnostic colposcopy. The letter also includes the clinic's contact information, so the patients can reschedule if needed.

-- Initial telephone contact: Interviewers call each patient using the CATI system 2-4 weeks prior to the colposcopy appointment to confirm the patient's appointment and encourage attendance. During the 5- to 10-minute call, the CATI system displays a scripted questionnaire and prompts on the computer screen for the interviewer to follow. The baseline assessment built into the system probes for five types of risk-related barriers: perceptions, expectancies and beliefs, values and goals, affect, and self-regulation. As the patient responds to questions, the interviewer enters the responses into the system. Based on responses to the barriers questionnaire, the CATI system identifies the two greatest barriers within the five C-SHIP-based barrier categories and selects from its library the tailored counseling messages to be delivered to address them. The interviewer reads the messages, which are displayed on the screen, ensures the patient understands the messages, and ends the call with a closing statement.

-- Follow-up contact: At the colposcopy appointment, a doctor looks for cervical lesions and biopsies any that are identified. Patients with no lesions or with the biopsy result of cervical intraepithelial neoplasia (CIN) 1 are scheduled for follow-up appointments at 6-month intervals until they receive two normal Pap test results. Patients with results of CIN 2 or 3 are scheduled to receive treatment-- cryosurgery, laser vaporization, or excision of the cervical transformation zone-- within 6 to 8 weeks and then follow-up appointments at 6-month intervals until they receive two consecutive normal Pap test and colposcopy results. Interviewers call patients 2-4 weeks prior to each follow-up appointment as a reminder; these calls typically take 2-5 minutes.

Although the intervention was implemented using the CATI system in the study reviewed for this summary, the intervention can also be implemented without CATI using available program materials.

Time Required
-- 30-60 minutes for interviewers to complete training
-- Additional time to set up the CATI system
-- 5-10 minutes for interviewers to conduct each initial telephone call and 2-5 minutes for each follow-up reminder call
Intended Audience
The intervention is intended for low-income, minority women.
Suitable Settings
The intervention is designed for use in clinical settings.
Required Resources
Required resources to implement the program include the following:
-- CATI System Telephone Screen Sample
-- Cognitive Affective Barriers Assessment
-- Cognitive Affective Barriers Message Library
-- Tailored Telephone Counseling Implementation Manual

For costs associated with this program, please contact the developer, Suzanne Miller. (See products page on the EBCCP website for developer contact information.)
About the Study
A prospective randomized controlled trial compared the effect of the intervention and two comparison conditions on adherence to follow-up after an abnormal Pap test among low-income, minority women. Participants were recruited from May 2006 through June 2010 from the Temple University School of Medicine Women's Care Center Colposcopy Clinic in North Philadelphia, Pennsylvania. Participants were identified from patients who were scheduled for colposcopy due to an initial abnormal Pap test. They were excluded from the study if they were younger than 18 years old, did not speak English well, had a history of malignancy, presented with invasive carcinoma of the cervix or another life-threatening medical condition, or displayed symptoms of severe cognitive confusion.

Patients were randomized into one of three arms: the intervention, which was the tailored telephone intervention (n=61); tailored print intervention (n=76); or enhanced standard care (n=73). The enhanced standard care participants received a notification letter and telephone reminder (including the C-SHIP-based barriers assessment) of the initial appointment 2-4 weeks prior to the appointment. Participants enrolled in the tailored print intervention and tailored telephone intervention received all the standard care intervention components as well. The tailored print patients additionally received CATI-system tailored counseling messages in the mail 5 days after the call. These high-quality printed materials were pocket sized and printed in a color that was culturally appropriate.

The average age of participants was 30 years; 82.18% were Black, 12.38% were Hispanic, 4.46% were White, and 0.99% were 'other.' For education levels, 5.29% had less than high school, 12.98% had some high school, 40.38% graduated high school, 10.58% had vocational school, 26.44% had some college, 3.85% had an undergraduate degree, and 0.48% had graduate courses. The breakdown of employment status was as follows: 36.36% were unemployed, 23.92% were employed full-time, 17.70% were employed part-time, 11.48% were students, 10.05% were disabled, and 0.48% were retired.

The main outcome was adherence to follow-up after abnormal Pap test result, defined by participation at the initial colposcopy and participation in follow-up-- either repeat Pap tests 6 and 12 months later (for those with CIN 1) or repeat Pap tests and colposcopy 6 and 12 months later (for those with CIN 2 or 3). For the initial colposcopy, adherence was measured by clinical chart reviews 1 week after the colposcopy. Participants were considered adherent if they attended their initial appointment or rescheduled the appointment to another date within 3 months of the original appointment.

Due to lack of statistical power among the three groups, and because adherence rates did not differ statistically between the enhanced standard care and tailored print intervention groups, these two comparison groups were combined during analyses. No differences between the intervention group and combined comparison groups were found at any individual timepoint. Subsequently, an analysis was conducted with general estimating equations (GEE) to account for the data at all timepoints and assess group differences over time.
Key Findings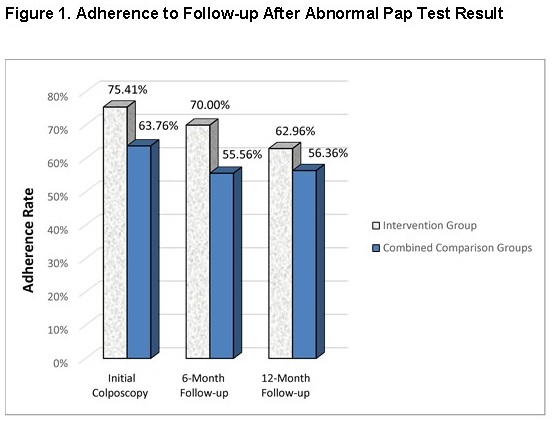 In a comparison across three assessment timepoints, the intervention group had higher adherence to the recommended follow-up than did the combined comparison groups (enhanced standard care and tailored print) (p=.0475).