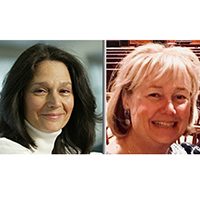 Lynn Butterly, MD
Dr. Butterly is a gastroenterologist and Director of Colorectal Cancer Screening for Dartmouth-Hitchcock Medical Center. She has served on several national committees, including the Steering Committee of the National Colorectal Cancer Roundtable, which created the 80% by 2018 national screening initiative. She was the founding chair of the New Hampshire Comprehensive Cancer Collaboration (CCC) for which she served as chair for seven years. Dr. Butterly has led several federally funded projects to investigate and improve colorectal cancer screening and surveillance, and has published and lectured extensively in this area. She is the Principal Investigator (PI) for the New Hampshire Colonoscopy Registry (NHCR), developed as an NIH-funded statewide, population-based registry collecting longitudinal data on all aspects of screening and surveillance colonoscopy, including detailed patient and pathology outcomes. She is also PI and Medical Director for the CDC funded New Hampshire Colorectal Cancer Screening Program (NHCRCSP), which is working to increase colorectal cancer screening to 80% of individuals over age 50 throughout the state, as well as to address disparities.
After graduating from Harvard Medical School, Dr. Butterly served her internship, residency, and fellowship in Gastroenterology at the Massachusetts General Hospital in Boston, and has focused on the optimization of colorectal cancer screening for over 25 years.
Joanne Gersten, RN, MS
Joanne Gersten is the Program Director of the New Hampshire Colorectal Cancer Program (NHCRCSP). NHCRCSP is funded by a Centers for Disease Control and Prevention grant to increase high quality colorectal cancer (CRC) screening in New Hampshire through implementation of priority evidence based interventions and supporting strategies within health systems, insurers and employers for persons 50-75 years of age.

Prior to this position Joanne Gersten worked for nine years for the American Cancer Society on population based cancer prevention programs with individuals, communities, providers, employers and legislators. Other past experience includes, marketing and strategic planning for hospitals and health centers, Executive Director of a Federally Qualified Health Center, and she started her career many years ago as a public health nurse in New York City where she found her passion for public health.

Questions & Answers
The New Hampshire Colorectal Cancer Screening Program (NHCRCSP) patient navigation intervention was developed as part of a Centers for Disease Control and Prevention (CDC) funded program to increase colorectal cancer screening and address disparities. Although there are "core elements" that are essential to the success of this colonoscopy navigation intervention, which was developed as a freestanding, statewide program, several specific aspects of the program could be adapted, particularly if the program was located within a primary care or endoscopy setting. For example, navigators might not need to be registered nurses if they worked within a primary care or endoscopy center, as long as day-to-day clinical support/oversight and expertise could be provided. As mentioned in the PN manual, the processes described could also be useful for navigating to and through other colorectal cancer screening tests, such as stool-based tests.
Navigation has proven effective with varying populations and for many types of healthcare interventions. Disparate populations in particular derive significant benefit from navigation for colorectal cancer screening. In fact, navigation through the NHCRCSP was successful even with a homeless population and with non-English speaking individuals with multiple barriers.

Implementation facilitators include adequate planning, having the necessary resources, budget, database, and personnel as outlined in the manual. Having a champion prior to and through implementation to ensure there is organizational support and engagement as well as clinical expertise will facilitate implementation. Partnerships are also extremely important and include providers, both primary care and endoscopists, local and regional public health programs that are working in communities to increase colorectal cancer screening, and other navigators in the area. A philosophy of shared success between the navigator and patient is a key facilitator to the intervention's successful implementation. Finally and most importantly, well-trained and mentored navigators who possess the needed interpersonal personality traits are essential to successful implementation of the program.
A key challenge would be a large uninsured population without resources to cover the costs of screening and any follow up. In addition, the need for ongoing assessment of intervention effectiveness and adapting the program as needed can be a challenge.

Evaluation is an important part of the NHCRCSP as evidenced by the comparison and cost studies in the reference section. Practitioners should consider the specific outcomes outlined in the manual as NHCRCSP program goals, and the applicability of those outcomes to what they hope to achieve through adoption of the program. Evaluation suggestions would be tracking of no shows, inadequate preps, follow up on positive tests, notification of patients and providers of results, and overall colorectal cancer (CRC) screening rates of the population being screened. As mentioned in the Patient Navigation (PN) manual, a program should establish a patient database to track patient demographics, personal or family history, any previous CRC screening, screening referral date, screening date, screening results, and next recommended test date. Tracking CRC screening rates for a given population, both baseline and at specific intervals, is usually done using the electronic health record, chart audit, or claims data. Primary care practices may be tracking CRC screening rates as part of the Uniform Data System, or other quality reporting system.
Current projects include the ongoing collection of data and observations related to the public health delivery of interventions to increase colorectal cancer screening (CRC). Current research includes ongoing focus on the outcomes and quality of CRC screening and surveillance that has been underway for 15 years. Investigations include pathology and molecular outcomes, currently including an emphasis on all subsets of serrated polyps. Additional current areas of research include frequency of polyp subtypes and factors associated with CRC in individuals < 50, and longitudinal outcomes for specific types of polyps including number, location, and size. The New Hampshire Colonoscopy Registry (NHCR) is able to investigate population-based data in areas for which evidence to inform national screening guidelines is needed, and to provide insight into current patterns of care.
Updated: 05/26/2020 01:18:58