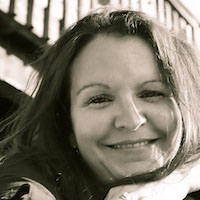 Cate Stasio, is Vice President of the Group Provider Relations & Digital Health at the Posit Science Corporation. Her interest is in working with senior leadership teams, providers, and healthcare systems with clear dedication to improving cognitive-related health outcomes. Her current grants are the following:
• e-CAeSAR Study: Plasticity-Based Adaptive Cognitive Remediation for Schizophrenia (NIH)
• BRAVE Trial: Plasticity Based Adaptive Cognitive Remediation for OIF/OEF Veterans with mild Traumatic Brain Injury (DoD)
• HAND Trial: Plasticity-based Adaptive Cognitive Remediation program for the treatment of HIV associated neurocognitive dysfunction (NIH)
• RESPONSE Trial: REmediation of SPatial NEglect Trial , the largest randomized controlled trial of a cognitive treatment for spatial neglect ever conducted (NINDS)

Questions & Answers
The wonderful news is that BrainHQ can be adapted exactly as it was presented in the review articles RTIPs reviewed to include BrainHQ program on its website. Because the BrainHQ program is online, it is quite easy to get started. Step-by-step instructions for setting up BrainHQ for use in your survivorship community, practice or research may be found here. Facilitators may wish to provide BrainHQ to their clients or communities as individuals, or elect to provide BrainHQ in group settings. To-date, all survivorship programs setting up and implementing BrainHQ have to our knowledge been successful.
Facilitators wishing to use BrainHQ as part of their programs and services will need adequate staff to view the set-up BrainHQ, the progress of their users and also to provide encouragement and feedback to clients along the way. Factors like the nature, size and duration of one's survivorship program should be considered.
Every survivorship program is different, and we at Posit Science have a great deal of respect for those unique qualities. Availability to staffing, technology, evaluation tools, and Participant Reported Outcomes (PROs) may vary and should all be taken into consideration. Should facilitators have specific questions, we encourage them to reach out to us directly so we can better understand their programs and provide them with the support and feedback they and their clients deserve.
Research evaluated by RTIPS focuses on improving cognition in cancer survivors by implementing evidence-based cognitive training (BrainHQ). As a standalone program, BrainHQ has over 200 peer-reviewed journal articles related to its safety and effectiveness across a wide array of conditions, including survivorship. Interested facilitators may see a small cross section of this research by visiting here. As an organization, we're interested in working with research scientists who evaluate any health conditions in which cognition and thinking skills are key components.
Updated: 05/05/2020 05:57:15