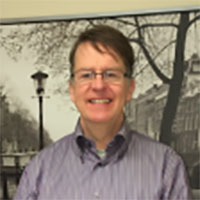 Paul J. Veugelers is a Professor in the School of Public Health at the University of Alberta who received training in human nutrition, epidemiology and biostatistics. He currently holds a Canada Research Chair in Population Health, an Alberta Research Chair in Nutrition and Disease Prevention, and an Alberta Innovates Health Scholar Award in recognition of his academic research program. Within this program, he studies the importance of intervention programs and policies in relation to the prevention of childhood obesity and chronic diseases. The overarching objective of the research is to advise on and direct new health policies and population intervention programs to prevent chronic disease, to improve quality of life and to avoid healthcare costs associated with the treatment of chronic diseases.
Questions & Answers
The APPLE Schools program is adapted to the specific needs of each school. Where the APPLE Schools was developed for elementary schools, it can also be adapted for implementation in high schools.
The presence of a school health facilitator is instrumental to the tailoring and implementation of the APPLE Schools program. The absence of support by the school's leadership may hinder effective implementation.  
Examples of questions that practitioners could include when they evaluate the adaptation/implementation of the program include sales and provision of healthy foods, restrictions on sales of junk foods, scheduling of (daily) physical activities, integration of health, nutrition and physical activity in the existing curriculum, extra-curriculum activities that focus on healthy lifestyles, etc. Specific evaluation tools suitable for grade 5 students are available on the projects website: APPLESchools.ca.
I am currently studying the broader benefits of investments in school-based programs that promote healthy eating and active living. These include potential  benefits to learning, self esteem and mental health as well as economic benefits as healthier lifestyle reduce the future burden of chronic diseases and herewith avoid costs for health care.   
Updated: 12/12/2019 04:07:36