Program Synopsis
Designed to increase awareness and sun protection behavior and practices among elementary school students, this school-based intervention includes the following: (1) introductory meetings with school staff, (2) an educational brochure for the parents of students, (3) two free hats for each student to use at home and school, seven in-classroom lessons, and (5) a reminder newsletter sent to students and parents. The study showed an increase in outdoor hat use at school.
Program Highlights
Purpose:
Designed to increase awareness and promote sun protection behavior and practices among elementary school students. (2010)
Age:
0-10 years (Children)
Race/Ethnicity:
American Indian, Asian, Black - not of Hispanic or Latino origin, Hispanic or Latino, Pacific Islander, White - not of Hispanic or Latino origin
Program Focus:
Awareness building and Behavior Modification
Population Focus:
School Children
Delivery Location:
Home, School (K-College)
Community Type:
This information has not been reported.
Program Materials
Preview, download, or order free materials on a CD
The Need
Skin cancer is the most common form of cancer in the United States. The two most common types of skin cancer are highly curable, but the third type --melanoma-- is more dangerous. About 65%-90% of melanomas are caused by exposure to ultraviolet (UV) light, an invisible type of radiation that comes from the sun, tanning beds, and sunlamps. Too much exposure to UV rays can change skin texture, cause the skin to age prematurely, and lead to skin cancer. UV rays also have been linked to eye conditions such as cataracts. Just a few serious sunburns can increase a child's risk of skin cancer later in life. Adults with a history of one or more blistering sunburns during childhood or adolescence are twice as likely to develop melanoma as those without such childhood sunburns, emphasizing the need to protect children and adolescents from UV radiation sun exposure beginning at an early age.
Children's skin needs protection from the sun's UV radiation whenever outdoors, year-round, particularly between the hours of 10 a.m. and 4 p.m. daylight savings time (9 a.m. to 3 p.m. standard time) when UV radiation exposure is strongest in the continental United States. The Centers for Disease Control and Prevention recommends avoiding sun exposure particularly during the midday hours by seeking shade; wearing clothing that covers exposed skin; wearing a wide-brim hat to shade face, head, ears, and neck; wearing sunglasses; and using a broad-spectrum sunscreen (having both UV-A and UV-B protection) with a sun protective factor (SPF) of 15 or higher.
The Program
Sun Protection for Florida's Children is a 2-year, school-based curriculum for 4th-grade students designed to increase hat use outdoors (both at school and at home) by increasing sun protection knowledge and fostering more positive hat use attitudes. The intervention consists of the following components:
--Introductory meetings with principals, teachers, and physical education instructors to explain the program and the importance of sun protection and outdoor hat use in children.
--A one-page educational brochure on the importance of sun protection and outdoor hat use that is sent to the parents of student participants.
--Two, free, adjustable wide-brimmed (2.5 inches on brim front, sides, and back) hats provided to each student (one for outdoor school use and one for outdoor home use).
--Seven in-classroom lessons, an initial comprehensive sun protection lesson (Sun Smarts), three follow-up lessons to address the benefits of sun protection and outdoor hat use, three logistical follow-up lessons to address "hat rules", hat distribution prior to outdoor activities, and hat collection (storage and cleaning) at the end of the school year.
--A combination "thank-you" and "reminder" newsletter sent to children and parents at the end of the school year to thank everyone and encourage students to wear their "home" hat outdoors over the summer.
Year 2 of the program includes another meeting with the school principal and teachers; a mailing to parents at the start of the 5th-grade school year to remind that their children will be encouraged to wear hats outdoors at school and at home; another six follow-up lessons that include a booster hat use session with the distribution of hat replacements if needed; and a final program newsletter to children and parents at the end of the 5th-grade school year.
Community Preventive Services Task Force Finding

This program uses an intervention approach
recommended
by the Community Preventive Services Task Force:
primary and middle school interventions
(Sun Safety).
Time Required
The intervention has been designed to be delivered over the 4th and 5th grade school year. The meeting with the school principal lasts approximately 45 minutes, and the meeting with teachers is about 1 hour. The comprehensive sun protection lesson session (Sun Smarts) is 45 minutes; the three follow-up lessons are 60 minutes each; and the three logistic lessons are 30-45 minutes each.
Intended Audience
The intervention targets 4th and 5th grade students.
Suitable Settings
The intervention is suitable for implementation in elementary schools and at home.
Required Resources
The following materials are required:
--Lessons protocol
--Year 1 lessons (1-6)
--Year 2 lessons (1-6)
--Program surveys (7)
--Letter to parents
--SPF brochure for parents
--Why Does the Sun Shine? (audio file)
--Two hats for each student
About the Study
A randomized controlled study evaluated the effects of a school-based, sun protection curriculum to promote outdoor hat use among 4th-graders while at school. Twenty-two schools (2,491 fourth-grade students) from Hillsborough County, Florida, were randomly assigned to one of two conditions: the 2-year Sun Protection for Florida's Children curriculum or an attention-control where students received three to five, 60-minute educational lessons on topics in science unrelated to sun protection (such as the sun as a star). All 4th-grade classrooms within intervention or control schools participated in the study for 2 years; however, outcome findings were reported for only the first year of the study. Participating 4th-grade students were 48% female, 52% male, 20% Black or African American, 40% White, 39% more than one ethnicity, and 1% ethnicity unknown or not reported.
Four research assistants underwent standardized training in direct observation and measurement of hat use outdoors at school with the project director. Observational hat use measurements were made during three time periods: baseline, prior to any intervention or control activities at the specific school (August 8, 2006, through September 29, 2006); after the intervention was implemented at the school (November 30, 2006, through March 15, 2007); and again in the spring (March 27, 2007, through May 22, 2007). The research assistants chose inconspicuous vantage points to observe and record measurements so as not to influence student and teacher behaviors. Research assistants recorded the total number of students observed, the number of students observed wearing any type of hat, and the number of students wearing wide-brimmed hats. Ambient weather conditions during the outdoor activity were also recorded using information from the national weather service (time of day, outside temperature, cloud cover, wind speed, and amount of shade).
Student follow-up rates at the intervention and control schools were 92% and 99%, respectively. One intervention school with 86 students withdrew from the study and did not provide follow-up data. There were no statistically significant differences in school or student demographic characteristics between intervention and control schools. There were no differences in school uniform policy, metropolitan versus rural location, size of student population, race or ethnicity of the student population, or census-reported median household income of the school's ZIP Code between the 22 participating study schools and nonparticipating schools in the Hillsborough County School System.
Key Findings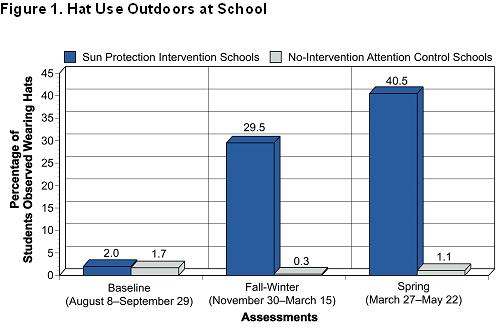 The percentage of 4th-grade students in the intervention schools observed wearing any type of hat outdoors at school increased from baseline to the fall-winter and spring follow-ups compared with the percentage of 4th-grade students in the control schools observed wearing any type of hat outdoors, which remained unchanged from baseline to each of the follow-ups (p<.001).