Program Highlights
Purpose:
Designed to promote healthy dietary habits to reduce obesity. (2007)
Age:
19-39 years (Young Adults), 40-65 years (Adults), 65+ years (Older Adults)
Race/Ethnicity:
White - not of Hispanic or Latino origin
Program Focus:
Awareness building, Behavior Modification and Motivation
Population Focus:
Overweight/Obese Individuals
Program Area:
Obesity, Physical Activity, Diet/Nutrition
Delivery Location:
Other Settings, School (K-College), Workplace
Community Type:
This information has not been reported.
Program Materials
Preview materials
The Need
Obesity has reached epidemic proportions in the United States. In 2009-2010, more than one third of U.S. adults (35.7%) were obese. Excess weight is associated with increased incidence of a variety of life-threatening diseases, including diabetes and hypertension. The economic repercussions are also great. The United States spends between $92.6 and $117 billion annually on overweight- and obesity-related healthcare.
The most effective non-medical weight loss treatment for moderate overweight and obesity is structured, professionally facilitated behavioral therapy. However, relatively few of those who could benefit from such weight loss programs are participating in them, perhaps due to cost or inconvenience.
The Internet has emerged as a promising way to disseminate state-of-the-art weight control strategies, particularly to people living in remote areas. It is estimated that up to 75% of U.S. adults have Internet access, and the majority of those with access already use the Web to find health information. Internet weight loss programs may promote peer-to-peer support through chat rooms and bulletin boards and facilitate self-monitoring more than in-person programs do. The Internet also allows individuals anonymity, which may be appealing to some.
The Program
The Vtrim - Your Online Partner for Healthy Weight is an online, therapist-led weight loss program consisting of two consecutive 12-week courses (Vtrim I and Vtrim II) that help participants understand and rethink their attitudes and behaviors related to food and physical activity. Participants who complete Vtrim I or Vtrim II can continue the program by enrolling in Vtrim monthly maintenance classes.
Vtrim was designed to simulate all aspects of a traditional, face-to-face group intervention. The format is similar to a workbook in that specific behavior modification lessons, such as "Eating in Social Situations", are featured each week. Participants are encouraged to attend weekly online classes focusing on the featured topic to reinforce the behavioral strategies outlined in the lessons. The classes are held in a private online chat room moderated by an expert facilitator (a registered dietician and/or master's-level counselor), with groups of about 15-20 individuals. Participants work with the same facilitator and the same 15-20 participants throughout each 12-week course so that the participants get to know one another and build supportive relationships. Discussion boards are provided on the website to facilitate participants staying in contact between weekly classes. The expert facilitator assigned to the group provides individual support and guidance via feedback in participants' food and exercise journals each week. The facilitator is also available via email to offer additional support as needed.
Participants are encouraged to follow the U.S. Department of Agriculture (USDA) Dietary Guidelines for Americans while reducing their calories based on personalized calorie goals and have access to an online food database with a recipe and menu builder and integrated calorie calculator. Participants are instructed to gradually increase their exercise energy expenditure, building up to burning a minimum of 2,000 calories per week.
Once participants complete Vtrim I or Vtrim II, they can enter an optional monthly maintenance phase that includes (2) two expert-led online classes per month in the same small-group format as Vtrim I and Vtrim II, (2) special monthly topics focusing on successful weight maintenance strategies, (3) expert facilitator review of 1 week of food and exercise journaling, and (4) expert facilitator review of individualized monthly goals. Participants are encouraged to continue journaling every day and to continue to use the support components of the website.
Community Preventive Services Task Force Finding

This program uses an intervention approach
recommended
by the Community Preventive Services Task Force:
worksite programs
(Obesity). This program also uses the following intervention approach for which the Community Preventive Services Task Force finds
insufficient evidence
:
school-based programs
(Obesity). Insufficient evidence means the available studies do not provide sufficient evidence to determine if the intervention is or is not effective. This does not mean that the intervention does not work. It means that additional research is needed to determine whether the intervention is effective.
Time Required
Each Vtrim course is 12 weeks. Participants who complete Vtrim I or Vtrim II can enroll in ongoing monthly maintenance classes.
Intended Audience
Vtrim is designed for overweight and obese adults.
Suitable Settings
Vtrim is administered through the Internet and can be accessed by any computer with an Internet connection. An interested participant can register as an individual, or the program can be offered to groups through their employer, doctor, or college or university. Vtrim can also be offered as a series of two consecutive 1-credit courses in degree or non-degree college or university programs.
Required Resources
All resources required to complete the program are accessed through the Vtrim website.
For costs associated with this program, please contact: Beth Casey Gold. (See products page on the EBCCP website for contact information.)
About the Study
There were 124 participants in the study. The average age was 47.7. The sample was 81.5% female and 98.4% White. Participants were recruited through newspaper advertisements and randomized to one of two intervention conditions: Vtrim (n=62), an online, therapist-led behavioral weight loss and weight maintenance program, or eDiets.com (n=62), a commercial weight loss program. Subjects randomized to Vtrim participated in a two-part intervention that included a 6-month weight loss course and a subsequent 6-month weight maintenance course, both completed online through the Vtrim website. Participants were assigned unique usernames so that their use of the Vtrim website could be tracked during the study. Participants in the comparison group were provided access to the eDiets.com website for 12 months and asked to follow the eDiets.com program as explained on the site. eDiets.com provided registration codes for participants as well as a web-based interface so that the study investigators could track participants' usage of the website.
Both the intervention and comparison group participated in a post-randomization orientation meeting to instruct participants on website procedures; those assigned to use eDiets.com did not receive detailed guidance but were asked to self-guide their use of the site. After answering a series of profile questions online, eDiets.com participants were automatically prescribed a calorie goal at the beginning of the program. Participants were provided a calorie-controlled meal plan and encouraged to exercise. Automated feedback messages were delivered based on weight loss progression. A variety of opportunities for social support were offered, including professionally facilitated online meetings, all-hour chat rooms, discussion boards, an archive of frequently asked questions, and a mentor section where new members could team up with a more experienced member.
Assessments were conducted at baseline and 6 and 12 months after baseline. The primary dependent outcome was change in body weight. The Perceived Social Support Scale was used to measure the degree to which subjects felt supported by their group members. An adaptation of the Eating Behavior Inventory was used to assess eating behaviors related to weight loss (e.g., "I eat in the middle of the night", "I leave food on my plate", "I eat when I'm not really hungry.")
Key Findings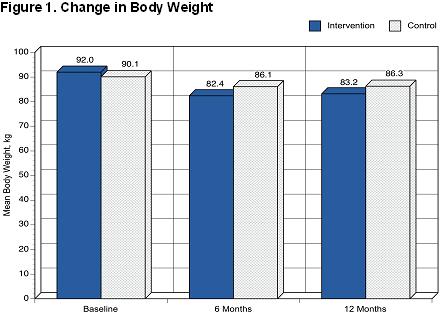 Participants in the intervention group lost more weight than the comparison group from baseline to 6-month follow-up (p=.005). Both groups regained weight between 6- and 12-month follow-up, but at 12-month follow-up, intervention group participants had maintained significantly greater weight loss (p=.034).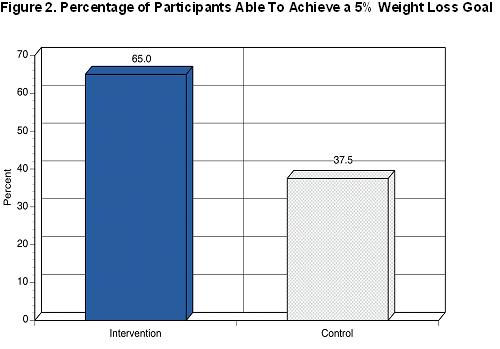 At 12-month follow-up, 65% of participants in the intervention group and 37.5% of participants in the comparison group had lost 5% or more of initial body weight (p=.01).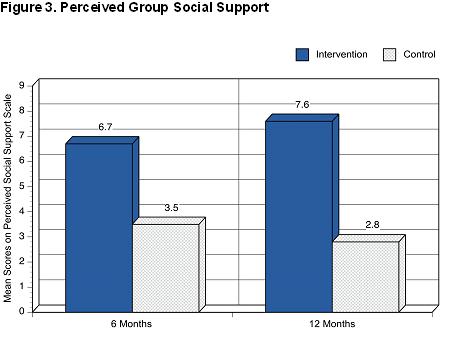 At both 6-month (p<.001) and 12-month follow-up (p<.001), mean perceived group social support was 2 times higher in the intervention group than in the comparison group.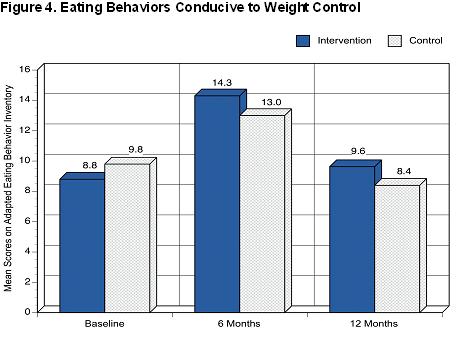 From baseline to 6-month follow-up, participants in the intervention group adopted more eating behaviors conducive to weight control than comparison group participants did (p=.005). From baseline to 12-month follow-up, although the mean change score for both groups was significantly different (p=.005), the actual score for both groups reverted to near baseline, indicating that both groups were not able to sustain the behaviors necessary for weight control to 12-month follow-up.