Program Synopsis
Designed to increase physical activity and improve dietary habits to reduce obesity among 6th, 7th, and 8th grade students, this school-based intervention consists of 32 sessions, with the curriculum material infused into language, arts, math, science, social studies, and physical education classes. The study showed decreases in obesity prevalence and television viewing.
Program Highlights
Purpose:
School-based program designed to increase physical activity and promote healthy dietary habits to reduce obesity among 6th, 7th, and 8th grade students. (1999)
Age:
11-18 years (Adolescents)
Race/Ethnicity:
American Indian, Asian, Black - not of Hispanic or Latino origin, Hispanic or Latino, White - not of Hispanic or Latino origin
Program Focus:
Behavior Modification
Population Focus:
School Children
Program Area:
Obesity, Diet/Nutrition, Physical Activity
Delivery Location:
School (K-College)
Community Type:
Suburban, Urban/Inner City
Program Materials
Preview and order the materials from the developer
The Need
The prevalence of obesity among America's youth has increased rapidly over the past 30 years. Obesity is the most common disorder among youth and a major cause of excess morbidity and subsequent mortality. Interventions to reduce obesity among young children and adolescents are particularly important because the risk of adult obesity increases markedly following obesity in adolescence. Schools are an essential channel for intervention because they offer access to large numbers of youth and can provide institutionalized programs in the communities.
The Program
Planet Health aims to improve activity and dietary behaviors among 6th, 7th, and 8th grade students. The program does not single out obese children. Planet Health uses an interdisciplinary curriculum approach. Intervention materials are infused into language, arts, math, science, social studies, and physical education classes, using grade-level and subject appropriate skills and competencies. The Planet Health approach increases the efficiency of program delivery by using classroom teachers with minimal health education training to implement the materials. The program enhances its effectiveness by involving multiple classes and frequent use of different approaches to learning.
Community Preventive Services Task Force Finding

This program uses an intervention approach
recommended
by the Community Preventive Services Task Force:
enhanced school-based physical education interventions
(Physical Activity). This program also uses the following intervention approaches for which the Community Preventive Services Task Force finds
insufficient evidence
:
school-based programs promoting nutrition and physical activity
(Diet/Nutrition) and
classroom-based health education interventions focused on providing information
(Physical Activity). Insufficient evidence means the available studies do not provide sufficient evidence to determine if the intervention is or is not effective. This does not mean that the intervention does not work. It means that additional research is needed to determine whether the intervention is effective.
Time Required
Each of the 32 sessions is delivered over 2 years; 16 sessions each year. Sessions require one or two 45-minute class periods, depending on the level of detail chosen by the teacher. Teacher training requires approximately 2-3 hours.
Intended Audience
Participants were 6th and 7th graders at the beginning of the study in the Boston, MA metropolitan area; 48% female; 66% White, 13% Black, 13% Hispanic, 8% Asian/Pacific Islander, 2% American Indian, 7% Other (percentages do not equal 100% because some categories are not mutually exclusive).
Suitable Settings
This intervention is intended for school settings.
Required Resources
The "Planet Health: An Interdisciplinary Curriculum for Teaching Middle School Nutrition and Physical Activity" manual is required and is available at a cost of $45.00. Additionally, teacher training materials are recommended and are available at no cost.
For your free copy, go to: http://www.hsph.harvard.edu/prc/projects.html
About the Study
Ten schools from four communities in the Boston metropolitan area were randomly assigned to receive either Planet Health or usual health curricula and physical education classes over two years. The program focused on four behavioral changes:
1. reducing television viewing to less than 2 hours per day,
2. increasing moderate and vigorous physical activity,
3. decreasing consumption of high-fat foods, and
4. increasing consumption of fruits and vegetables to 5 a day or more.
Each behavior change was addressed in one lesson per subject (language arts, math, science, and social studies), for a total of 16 core lessons each in Year 1 and Year 2. A 2-week campaign called "Power Down" was implemented to reduce television viewing in households. Physical education lessons were organized into 30, 5-minute units. Lessons focused on self-assessments of activity and inactivity levels and goal setting and evaluations for reducing inactivity, replacing inactive time with moderate and vigorous physical activities of their choosing.
Results indicated:
Obesity decreased among intervention girls relative to control girls; but obesity remained the same among intervention and control boys.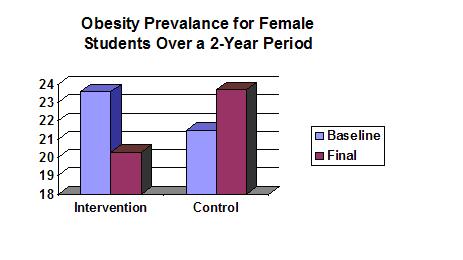 Television viewing decreased for intervention girls and boys relative to control girls and boys.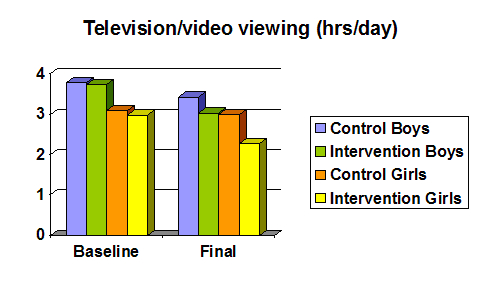 Intervention girls ate less overall and consumed more fruit and vegetables than control girls after the program; neither of these findings were true for boys.
Publications
Wang LY, Yang Q, Lowry R, Wechsler H. (2003). An Economic Analysis of a School-Based Obesity Prevention Program. Obesity Research, 11(11), 1313-1324.
Ganz ML. (2003). The Economic Evalution of Obesity Interventions: Its Time Has Come. Obesity Research, 11, 1275-1276.
Gortmaker SL. (2002). The Role of the Physical Activity Environment in Obesity Among Children and Adolescents in the Industrialized World. Obesity in Childhood and Adolescence, 49, 177-194.
Ludwig DS, Peterson KE, Gortmaker SL. (2001). Relation Between Consumption of Sugar-Sweetened Drinks and Childhood Obesity: A Prospective, Observational Analysis. The Lancet, 357, 505-508.
Wiecha JL, Sobol AM, Peterson KE, Gortmaker SL. (2001). Household Television Access: Associations with Screen Time, Reading, and Homework Among Youth. Ambulatory Pediatrics, 1(5), 244-251.
Boynton-Jarrett R, Thomas TN, Peterson KE, Wiecha J, Sobol AM, Gortmaker SL. (2003). Impact of Television Viewing Patterns on Fruit and Vegetable Consumption Among Adolescents. Pediatrics, 112, 1321-1326.
Wiecha JL, El Ayadi AM, Fuemmeler BF, Carter JE, Handler S, Johnson S, Strunk N, Gortmaker SL. (2004). Diffusion of an Integrated Health Education Program in an Urban School System: Planet Health. Journal of Pediatric Psychology, 29(6), 467-474.