Program Synopsis
Designed to increase physical activity among urban non-Hispanic Black and Hispanic adults, this community-based intervention involves community health promoters who lead members in walking group sessions three times per week; facilitate warm-up, cool-down, and stretching exercises; and help build peer support and group cohesion by encouraging participants to engage in discussion, set team goals, select a name for their group, and celebrate accomplishments. The study showed an increase in the number of steps per day.
Program Highlights
Purpose:
The program is designed to increase physical activity among adults. (2015)
Age:
40-65 years (Adults), 65+ years (Older Adults)
Race/Ethnicity:
Alaska Native, American Indian, Asian, Black - not of Hispanic or Latino origin, Hispanic or Latino, Pacific Islander, White - not of Hispanic or Latino origin
Program Focus:
Awareness building, Behavior Modification and Social Support
Population Focus:
This information is not available.
Program Area:
Physical Activity, Obesity
Delivery Location:
Other Settings, Religious establishments
Community Type:
Urban/Inner City
Program Materials
Preview and order the materials from the developer
Featured Profile
Learn more about this program and the developer who created it
The Need
Nationally, fewer than 50% of U.S. adults meet recommended guidelines for adequate physical activity. Non-Hispanic Blacks (NHBs) are 20% less likely to engage in physical activity in comparison with non-Hispanic Whites (NHWs), and 54% of Hispanics are physically inactive, rates that exceed those among non-Hispanic Whites. NHBs and Hispanics are disproportionately likely to live in racially segregated neighborhoods with characteristics that may limit opportunities for physical activity. Exercise can contribute to a healthy weight and reduce the risks of health-related conditions associated with overweight and obesity, including heart disease, stroke, type 2 diabetes, and certain types of cancer. Thus, interventions effective in increasing leisure time physical activity among NHB and Hispanic residents of urban communities stand to make important contributions toward improved health.
Physical activity guidelines suggest that adults should engage in a weekly minimum of 150 minutes of moderate-intensity aerobic activity (e.g., brisk walking, dancing) or 75 minutes of vigorous-intensity aerobic activity (e.g., jogging, swimming laps) along with muscle-strengthening activities at least 2 days each week, with adjustments made for older adults with chronic health conditions and a low level of fitness.
The Program
Walk Your Heart to Health (WYHH) is a 32-week community-based intervention that promotes physical activity, primarily among non-Hispanic Black and Hispanic adults who live in urban neighborhoods. As one component of the broader intervention Cardiovascular Health: Pathways to Heart Health (CATCH: PATH), WYHH specifically promotes cardiovascular health through walking groups. Based on social support interventions and group dynamics theories, WYHH uses peer support and group cohesion to encourage participation and program adherence.
Through the intervention, community health promoters lead community members in walking group sessions three times per week. Ideally, walking groups meet at an easily accessible location that has both an outdoor walking area near established parks and walking trails and an air-conditioned indoor facility with restrooms and drinking fountains. Each 80- to 90-minute walking session consists of a warm-up, 50- to 60-minute walk, and cool down; the warm-up and cool-down periods include stretches and exercises. Other components of the sessions may include signing in, collecting data on steps, completing an activity, taking a water/food break, participating in a group discussion, closing the session, and completing an evaluation. The program can be used with all levels of walking, and participants can walk different distances at their own pace.
To facilitate group cohesion, build group identity, and increase participation, the community health promoter encourages the walking groups to select a name for their group that provides a sense of shared identity (e.g., Soul Steppers, Farwell Swaggers, Walk in the Park). Groups develop team goals and agreements, take group photos, celebrate accomplishments, and organize events outside of the walking sessions.
The community health promoters who facilitate walking groups are trained community members with strong social and facilitation skills. The program manual's toolkits provide guidance to the community health promoters to assist them in leading the walking groups. The toolkits include information on warm-up, cool-down, and stretching exercises; walking (e.g., benefits, safety, weather considerations); health topics (e.g., cardiovascular disease, stroke, cholesterol, blood pressure); and facilitation (e.g., setting and tracking individual goals, setting group goals and establishing group agreements, promoting group cohesion, setting the group climate, encouraging group participation). The toolkits also include handouts that can be distributed to participants with various chronic conditions.
Community Preventive Services Task Force Finding

This program uses an intervention approach
recommended
by the Community Preventive Services Task Force:
social support interventions in community settings
(Physical Activity).
Time Required
-- 80–90 minutes per walking session (three sessions per week for 32 weeks)
-- 40–50 hours to train community health promoters
Intended Audience
The intervention is intended for non-Hispanic Black and Hispanic adults who live in urban areas.
Suitable Settings
This intervention is intended to be implemented in community settings, including community-based organizations or faith-based organizations.
Required Resources
Required resources to implement the program include the following:
-- Walk Your Heart to Health Manual
-- Walk Your Heart to Health website
For costs associated with this program, please contact the developer, Amy Schulz. (See products page on the EBCCP website for developer contact information.)
About the Study
A randomized controlled trial conducted in Detroit, Michigan, compared WYHH with a delayed intervention. Eleven community- and faith-based organizations hosted a total of 30 groups (15 paired intervention and control groups). Residents of Detroit were eligible to participate if they were at least 18 years old and completed a modified version of the Physical Activity Readiness Questionnaire. Residents who were pregnant; had a systolic blood pressure greater than 180 mmHG or diastolic blood pressure greater than 110 mmHG, fasting blood glucose levels greater than 180 mg/dL, type 1 or type 2 diabetes, bone or joint pain, chest pain, or dizziness; or were currently taking medication for high blood pressure or a heart condition were advised to consult with their health care provider prior to enrolling. After randomization and baseline assessments, the intervention group began WYHH immediately, and the control group began WYHH 8 weeks later.
The study enrolled 695 residents, and 603 participated in at least one session: 294 in the intervention group and 309 in the control group. At baseline, the average age of participants was 46.6 years; 90% were female, 62.0% were non-Hispanic Black, 36.1% were Hispanic, 2.7% were an "other" race/ethnicity, and 1.9% were non-Hispanic White. More than half (55.2%) had more than a high school education, and 28.8% earned at least $35,000 per year.
The main outcome—number of steps—was measured at baseline and over the 8-week intervention period. The number of steps was measured by counting mean steps per day using an Omron pedometer. Baseline data were collected for a period of 1 week prior to the intervention, and follow-up data were collected every week over the duration of the study period. Secondary outcomes—body mass index (kg/m2), waist circumference (cm), glucose, total cholesterol, and three measures of resting systolic blood pressure—were measured at baseline and 8-week follow-up. Although the intervention period was 32 weeks, between-group analysis was only conducted at 8 weeks, after the intervention group had received WYHH for 8 weeks and the delayed intervention group had received no intervention.
Key Findings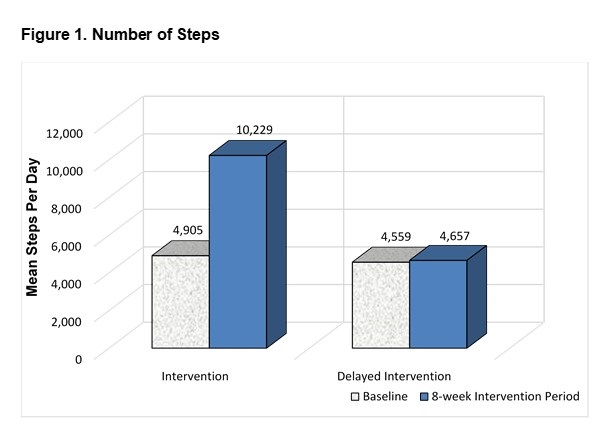 In an analysis comparing baseline steps per day with steps per day during the 8-week intervention period, steps per day increased more for the intervention group than they did for the control group (p = .000).
Additional Findings
Over the 8-week intervention period, steps per day increased significantly with both the number of sessions participants attended (p < .001) and the number of weeks participants attended at least one session (p < .001).
Every increase of 1,000 steps per day at 8 weeks compared with baseline was associated with reductions in rates of high blood pressure (p = .01) and reductions in total cholesterol (p = .02), blood glucose (p = .04), waist circumference (p = .01), and body mass index (p = .04).